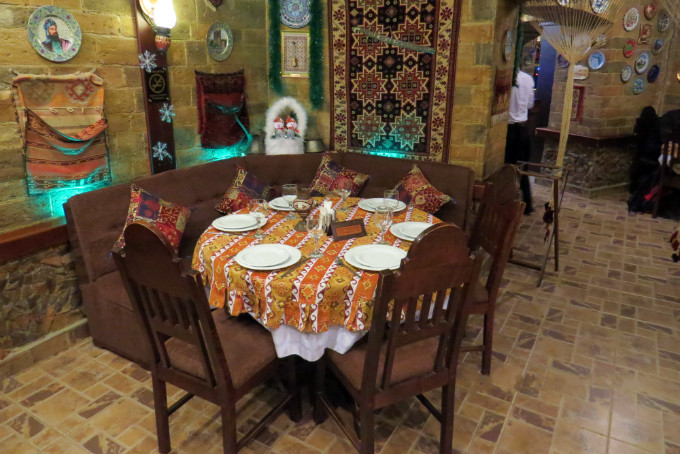 We recently visited "Firuze" restaurant, this place exists I think at least more than ten years, because that was the exact time when I visited Baku last time. And it changed a lot. Now this place is designed in a colorful oriental spirit. It is located straightly in the center of the city, on the "Fountain Square". The interior is made of national patterns, paintings, exclusive carpets and other national elements. If you are looking for a place in the heart of Baku, with democratic prices – "Firuze" is a place to go. Seriously, I was shocked by their prices; this place is not a tourist trap. TripAdvisor has none of negative feedback as well.
The only thing I didn't get was unqualified staff. Seems like administration wanted to save a bit money on a high-educated and qualified staff. Unfortunately not all the staff knows English and some of them have problems with russian as well. And here is another bad link to the staff. Even if you are a local, after a nice supper with friends and after a good portion of alcohol was served, you can be cheated in your bill. Last time I was there with my Azeri friends, they were celebrating a fellow's birthday, they finally got a bill with some extra couple shots of "Absent" and "Long island". When they asked the waiter about this clumsy situation, he simply told us that this bill was mistakenly given to us. So you have to check you bill twice before you pay! So the problems are: badly qualified staff who tries to cheat you sometimes. There is no other aspects except that in the evening it's very crowdie and very smoky. Lots of people and all of them smokes. However there is a cozy non-smokers area! Bingo, that's a great news! So overall, this restaurant gets 7/10 points. Great ambience, good food, great prices!
Menu
Average prices on all types of soups are not more than 3 AZN. Flour meals like "Kutabs" (5 kutabs per plate) starts from 4 AZN, pasta starts from 3 AZN (Bolognese, Cheese Pasta),"Dushbara & Hingali" goes from 4 AZN. Main meals starts from 4 AZN. This place has an outstanding range of food. It has at least 4 types of cuisines: Azerbaijani, European, Georgian and Mexican. I spent lot of time reviewing and analyzing their menu, it's seriously huge, it has more than 12 pages inside, my brain was half crashed. Actually I am not a big fan of this kind of "encyclopedia menu", for my opinion it makes customer feel confused .But if you strongly believe that you came to this place to try Authentic Azeri cuisine, you will avoid this problem.
Recommended meals: "Kutabs with meat and herbs", "kebab from quail","Kufte-Bozbash".
Pros:
Central location
Great Prices
Delicious Food
Cons:
Most of the area is for smokers
Sometimes tricks can happen with your bill
Unqualified and unsympathetic staff
Reviewed by: Tim Fazilov