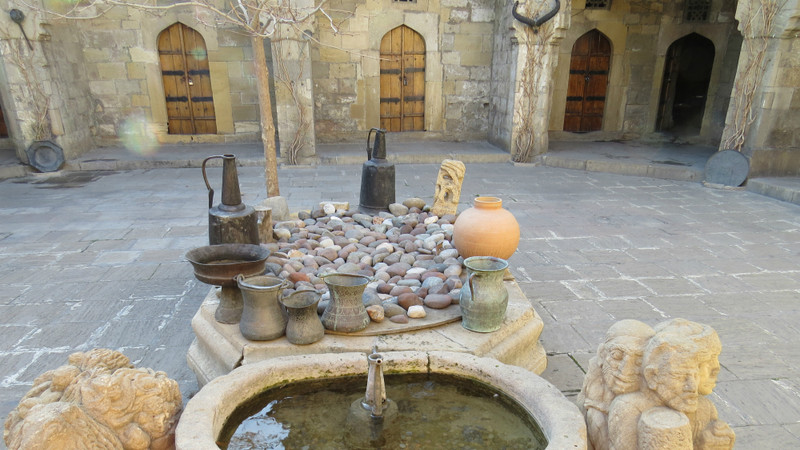 Ok, now let's talk about this place. All the feedbacks from the friends of mine and tourists were not the best ones, to be honest with you, so we decided to check it ourselves. This time we had our little gastronomic quest to a place where the silk way was passing in ancient times. The location of this restaurant is amazing! The ambience and decorations are simply fantastic. Everything looks like as you were in a museum. There are places to sit in the rooms, where you can find a small fireplace built in, where "Caravanserai" spirit takes you away.
Now let me tell you about service, which is pretty good. Everybody smiles and is ready to respond for any of your requests immediately and you start feeling yourself like a king in your ancient castle (actually before your bill comes out). So everything sounds cool except the fact that when you  try to order some food and drinks, suddenly waiter brings some starter (cheese, salads, cream etc.). The argument starts from here, I mean I did not ordered starter I just wanted to order some main meal and coffee that's it. As simple as that. But no way, it doesn't matter whether you  want it or not, you have to accept the traditional starter which will definitely be included into your bill. Starter costs approximately 10 Euros. Ok, done and done, let's go back to our dinner. Oh sorry, I forgot to mention that lots of dishes in a menu have no price, maybe they wanted to create a kind of intrigue. Well, I guess that was successful, because when I ordered some fish, my bill became really heavy, if you know what I mean. Then depends on who you are a local one or a tourist they can charge you over 8 euro for "mugam" music and waiter tips. So be aware of musicians from the band, they can play some songs for you, which will also be included in the bill. Then unfortunately we faced a problem called "Credit Card Terminal". When you are entering a restaurant, you can clearly see a big sticker "Master/Visa", but there is no guarantee that they will accept it.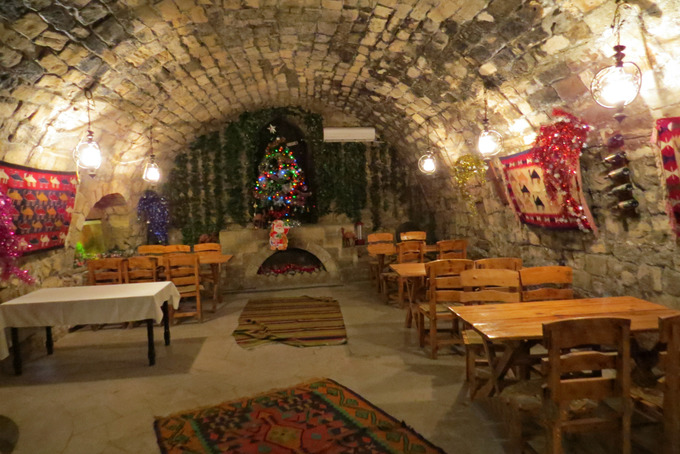 Finally what are the key points about this place? It is full of cultural heritage and spirit, the ambience is awesome as well as the interior and service. The administration was very friendly. I wouldn't say that food was gorgeous. It was ok, but not more than that. I would say 6 points from 10. For this amount of money paid in this restaurant they definitely could do better. The portions are small, some meal are not that hot as it should be. The aggressive "starter" from the waiter, which to be honest with you nobody needs for 10 euros is not the best thing to start your dinner with, isn't it? After that goes a credit card machine which seems to work only twice a year. And a bill…I mean a heavy bill. Expect this guys to overcharge you with everything they can charge for, starting from music and unordered starters finishing with bread, "free snacks from the chief" and even unordered meals, in case of you are a bit drunk. Very sad to post this kind of feedback, but people have to know that this place is all about bill-cheating, however this place has a great potential!
 Pros:
Excellent Location
Good Food
Nice Service
Perfect ambience
Music Band
Exclusive VIP rooms
Cons:
Overcharged bill
Cheating tourists
Credit Card if often not accepted
Unordered starter will be included to your bill
Very expensive
If you have been there before or recently, please let us know your opinions in the comments below!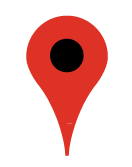 11 Qala str., Baku
Reviewed by: Tim Fazilov