How to Travel Azerbaijan for Free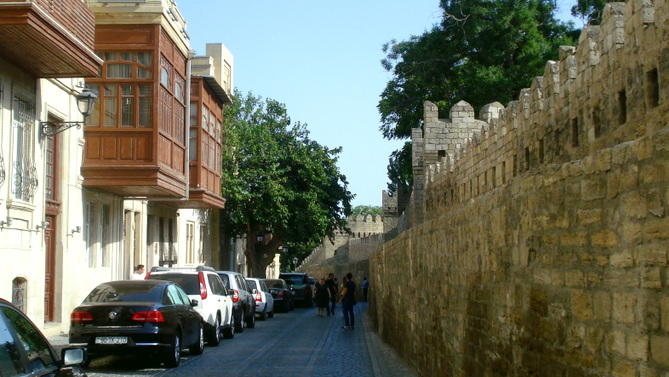 Traveling is not always cheap. If you don't know much about the country you are going to visit, chances are you will spend much more than you need. Preparing for a trip like a pro is worth effort and Azerbaijan is one of those countries, which can be very expensive to visit, unless you know how to hack for free and cheap options.
To make your planning easier and to save another buck for you, below we've made a list of free and budget options you can use before and during your visit to Azerbaijan.
Couchsurfing
Couchsurfing.org is the best website to find like-minded folks who are ready to offer you a place to stay for free or at least to show you the city and share stories. Moreover, you can post on the discussion wall of the particular city to get information about a topic that interests you and get responses from locals.
Despite the fact that there are both official cabs and private taxis all around the city, which offer reasonable price depending on the distance you will go, it might be much more efficient to use public transport. Not to say that Baku is full of cars and traffic jams, metro is the best option if you need to reach faster to your destination.
Free entrance to museums

Some museums in Baku offer free entrances at least once in a month. Historical Museum of Azerbaijan is free to enter on the last Monday of each month. Azerbaijan Carpet Museum has free entrance days on the last Saturday of each month. Baku Museum of Miniature Books is completely free. Martyrs' Lane and sightseeing Flame Towers and Baku bay from there is also free of charge.
There are few hostels in Baku and they offer couches and rooms for a low price (at least compared with hotels in the city). It can be even more advantageous as most of them are in the Old Town Icharishahar, which is practically is the city centre. Airbnb is also a great resource to find accommodations and people who are looking for flatmates.
Use free wifi
There is a free wifi point in the Park Bulvar Mall, called "Wi-Fi Divan", where you can also charge your mobile phone. Moreover, most cafes, pubs and restaurants have wifi, so feel free to use them.
Free water
Avoid spending much on water bottles, especially during hot summer season. Instead, grab your bottle and fill it with Şollar spring water available around the city center and in seaside boulevard.
Cheaper food
Don't run for luxury restaurants that usually have exorbitant prices just for their fancy atmosphere and service. Instead, find some local and simple restaurants, which offer delicious meals for a reasonable price. Also, you might be familiar with oriental fast food called "doner" and there are many doner to-go shops everywhere in Azerbaijan. Chudo Pechka is a chain of fast food cafes, popular among Baku citizens. The service and some food inside may not be excellent, but there are some good options you can try for a very low price.
Beware of expensive shops
Most of the shops around the seaside boulevard and that are close to Icharishahar metro station have higher prices than usual. Therefore, always keep in mind to buy what you need before starting your trip inside the city. Higher prices mostly apply to cigarette packs, chewing gums and bottled water.
Bargain
Art of bargaining never gets old as much as there people practicing frugality. If you are going to buy souvenirs, you can save on it just by negotiating the price with a seller. Most prices in souvenir shops are not fixed, unless there is a price tag attached. Read more about bargaining in Baku here.
Hitchhike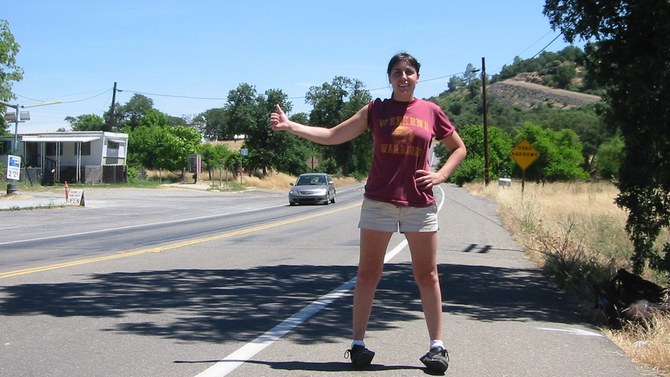 Traveling alone or within a group could be much more interesting with hitchhiking. Most people in Azerbaijan don't know English very well, as Russian language was more popular during the Soviet regime. However, you can meet very interesting people on the road and at least go for the road for completely free. People in the regions and villages are very hospitable and hitchhike is a great option if you plan to extend your trip to get to know Azerbaijan better. Only consider that people in Azerbaijan are not very familiar with the idea of "hitchhike" and it can be difficult sometimes to explain what you are doing and why. Hitchwiki has some information about hitchhiking in Azerbaijan.
Budget flights
Researching budget flights is a wise decision and there are a few websites, which can assist you in finding the best options. Dohop, easyJet, skiplagged are among the best to search for budget traveling options. Traverlust offers exclusive options to plan your inexpensive trip. Still not enough? Business Insider has a big list of websites to find affordable flights.
Free conferences and training programs
Before deciding about your traveling date, try to look for opportunities to make your trip as cheap as possible. Edu-active is a very useful resource to look for opportunities in Azerbaijan. The website provides information about scholarships, volunteering, trainings, conferences, jobs and much more.
Salto Youth is another great resourse to find trainings abroad and once in a while youth organizations in Azerbaijan also organize such training activities. Some of these organizations even reimburse traveling expenses.
Free exhibitions and events
Art is a part of modern culture and there is nothing much more enlightening about the country and its culture than attending events and exhibitions taking place in the capital city. YARAT is the most popular art organization in Azerbaijan, mostly focusing in the contemporary art. Visit their official website and discover ongoing and future events. Most of these events are free.
CityLife.az has an amazing database of events and is the most popular event website in Baku. Heydar Aliyev Center hosts interesting exhibitions generally and you can find out about these events from its official homepage.
Baku is Dubai of Caucasus and everyday it becomes fancier and more expensive than ever. However, here is the kicker: if you follow free and cheap options we've mentioned, you'll be a boss of cheap traveling.