Pearl of Baku – The Maiden Tower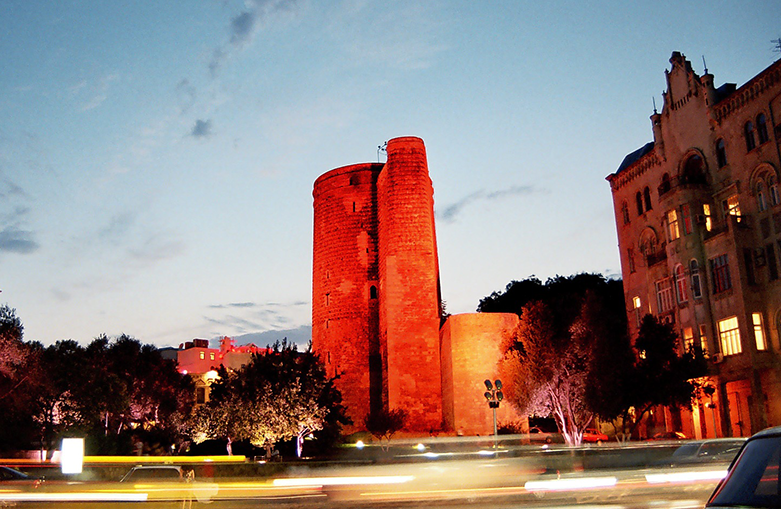 Probably if you surfed the internet beforehand to get to know more about Baku, you should already have heard about the Maiden Tower ("Gyz Galasy") which is situated in the Old Town (or "Inner City" translated from Azerbaijani) facing city boulevard and the Caspian Sea. Maiden Tower is an Eiffel Tower of Baku. In spite of the inscription on its wall, stating its building time to 12th century and authorship to Masud ibn Davud, there are many doubts about it, as the design of the tower and used stone completely differs from the other buildings that were built around it. Many scientists have different arguments on its building time.
It has completely mysterious look, which makes it outstanding among any other buildings of Baku. From aerial view it resembles "Buta" (Paisley pattern), which is the quite symbolic ornament of Azerbaijan. It is hard to determine what it was intended for in its time of building. It could possibly be a temple of Zoroastrism, as the "buta" stated earlier is simply an image of fire. In 12th century it was used as a fortress of  Shirvanshahs for defensive causes.
There is a well-known legend about this beautiful and ancient Tower. According to the legend, once upon a time a king wanted to marry his own daughter. His daughter, ashamed of her father's intention, asks him to build a tower and agrees to marry as soon as it will be completed. Upon completion the girls commits suicide by jumping from the top of the tower.
There are many towers and fortresses in the world with the names of such alike. Mostly translated also as "Virgin Tower" these fortresses stressed the invincibility of these buildings against the enemies.
After its restoration, modern designed information boards were set up inside, so you can get enough information even without the need of a guide.
In 2000 Maiden Tower was inducted as the UNESCO World Heritage Site.
---
How to Get There: the closest metro station is Icharishahar and it will take around 15 minutes to get to the Tower by the walk. Just enter the Old City Walls just behind the metro and walk to right. Then follow way shown the Google Map below. Old City is just full of narrow streets, so don't be surprised.
Google Map: https://goo.gl/maps/Gga5u
Panoramic View: http://www.360cities.net/image/maiden-tower
Opening Hours: Everyday from 10:00 to 18:00
Entrance Fee: 8 AZN for foreigners, 2 AZN for citizens of Azerbaijan, 0.60 AZN for students (foreign student cards are also applicable)
Want to discover best sites with us? Browse and book your tour on
Baku-Tours.com
Image Credit: Fuad2006